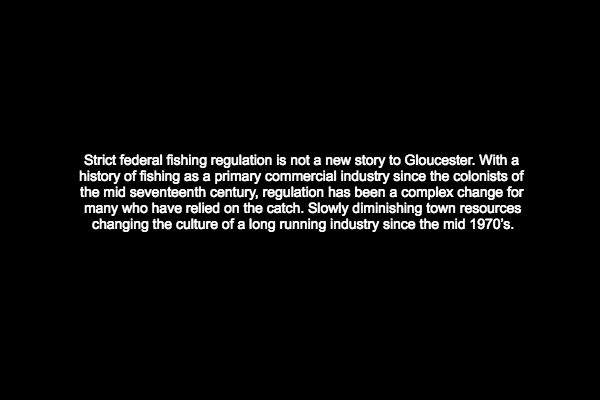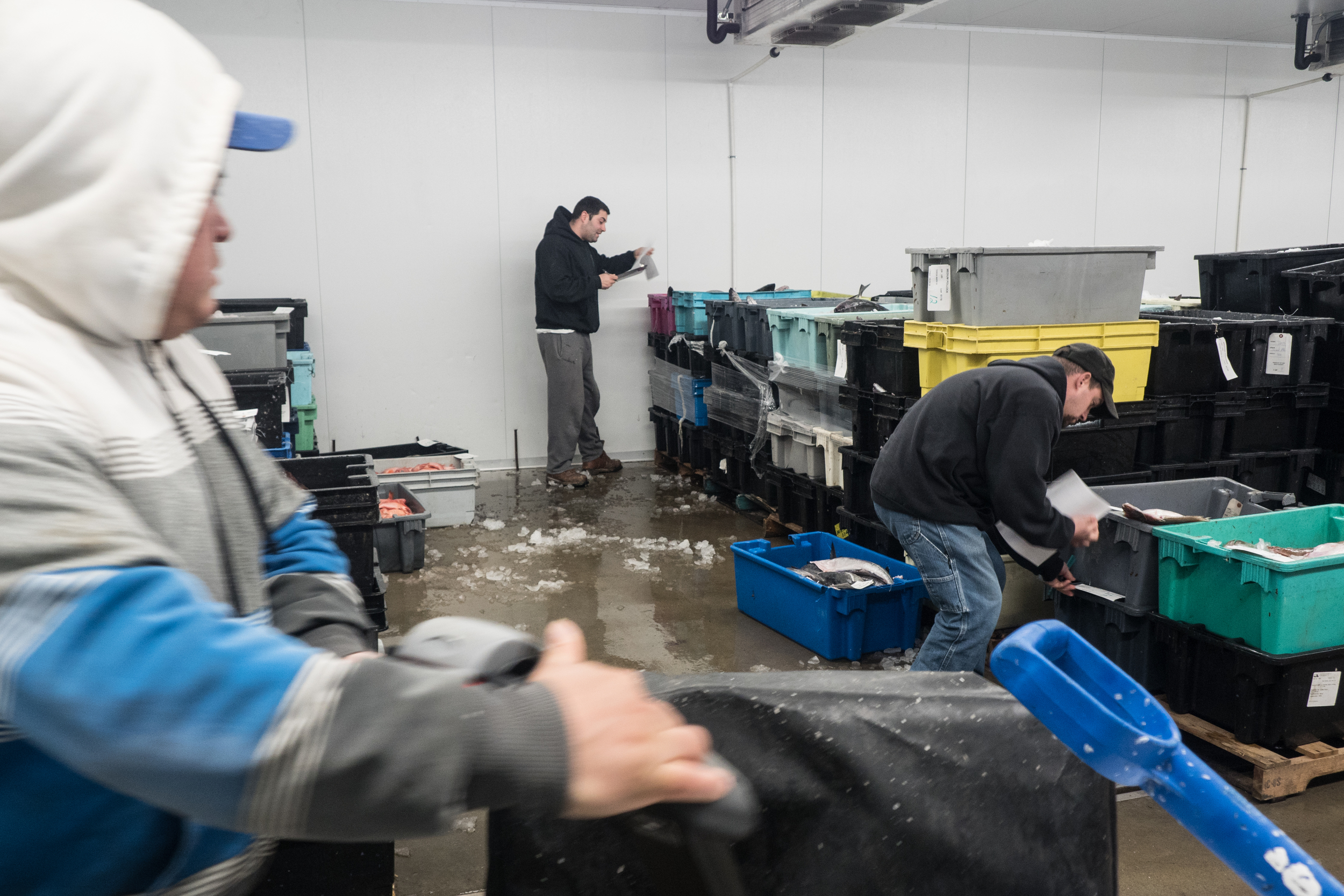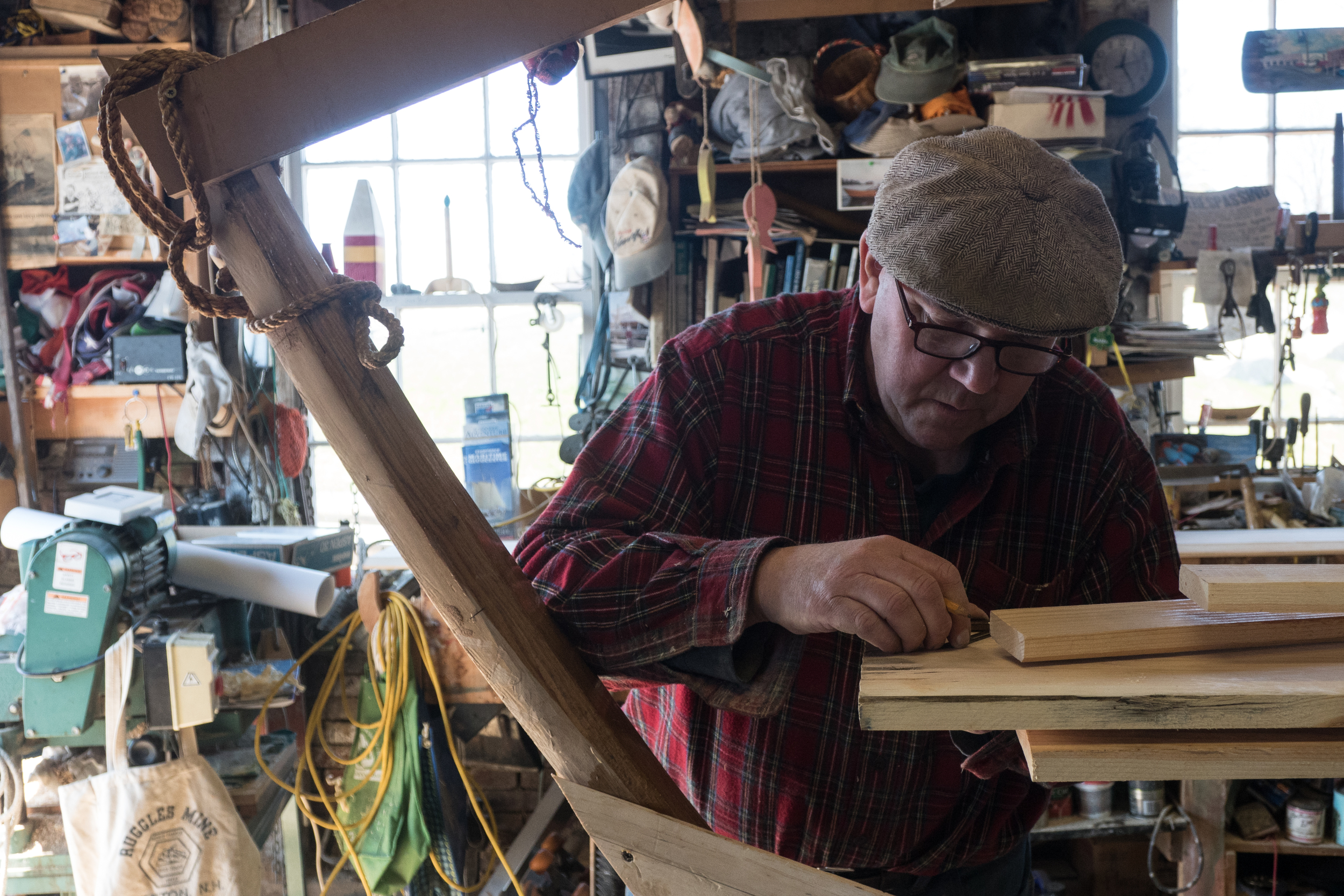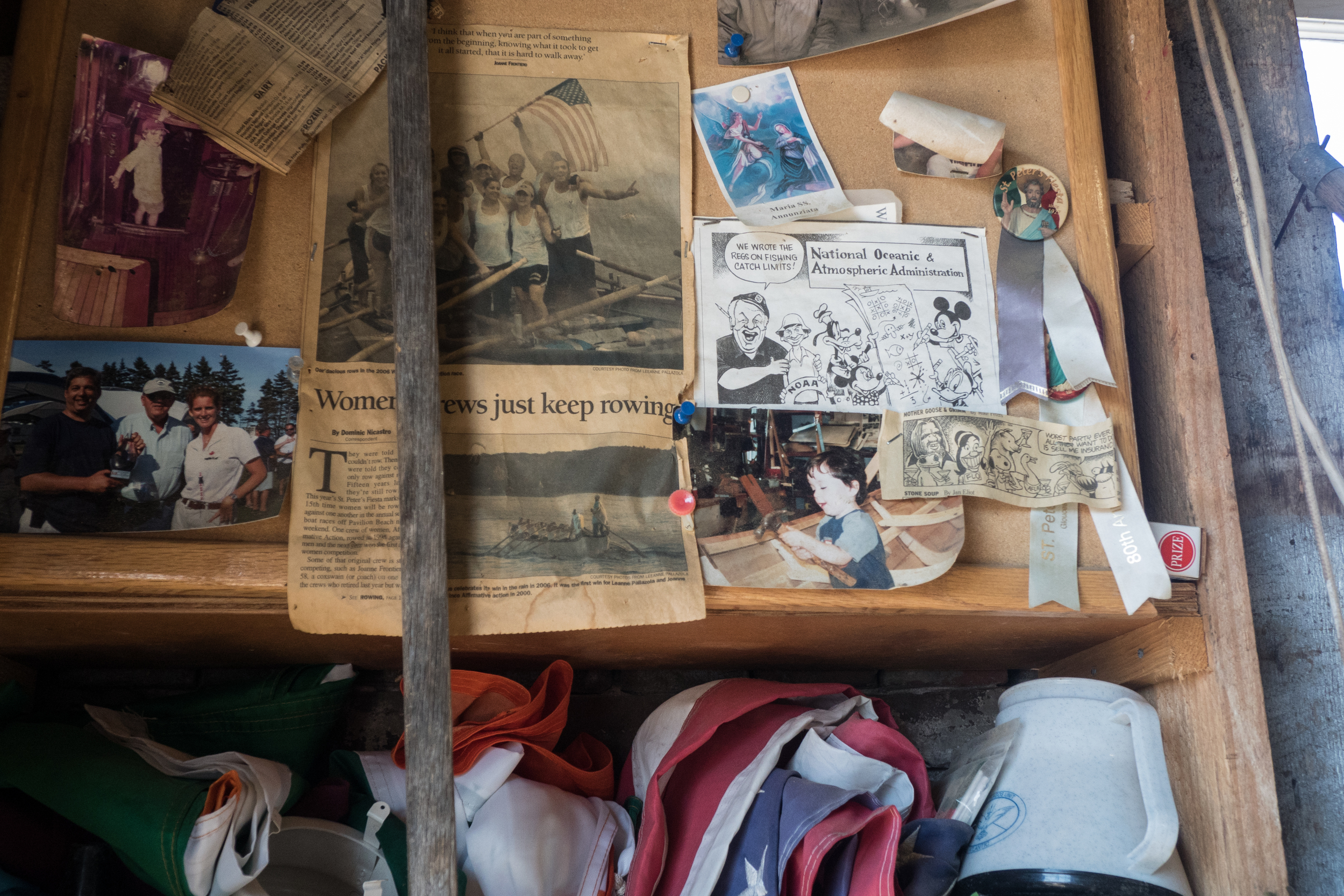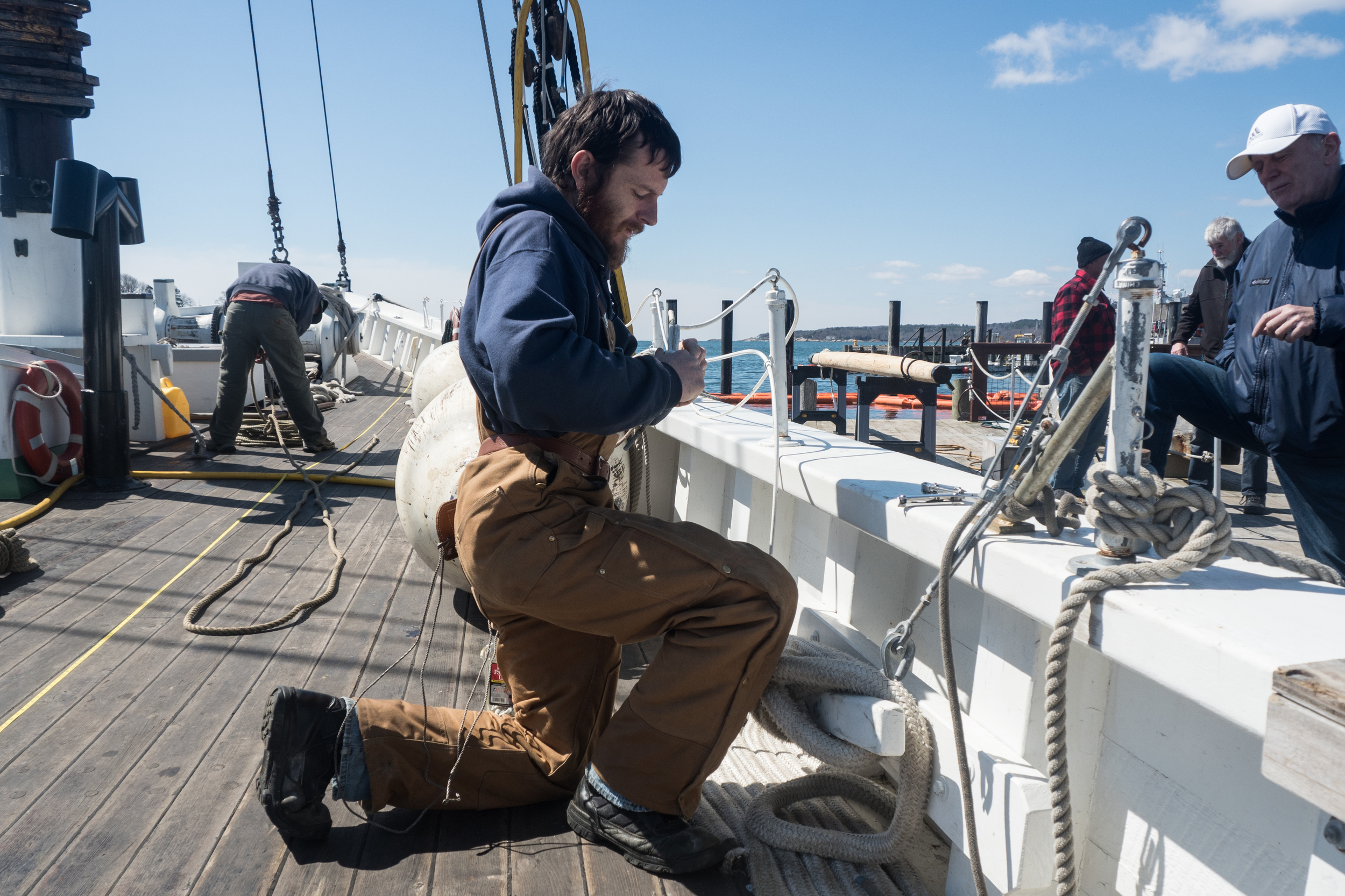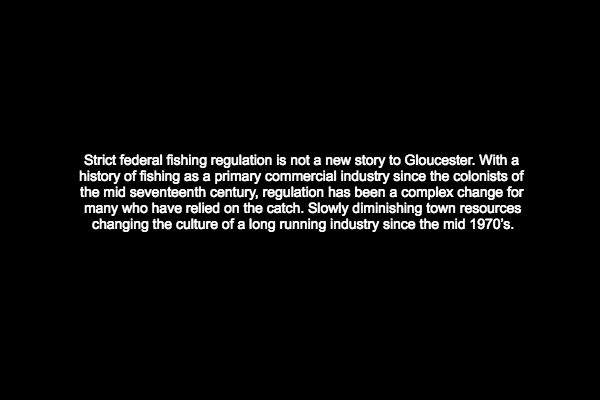 The original Our Lady of Good Voyage statue displayed in the Cape Ann Historical Museum. It sat on the Portugese Lady of Good Voyage Church on Prospect st. looking out on the waterfront from 1915 to 1985, the boat she holds and hand blessing symbolize safe voyage for fishing and marine vessels.
Mike waits in his truck outside the Fisherman's Wharf at 6am in Gloucester. Eight truck drivers and Wharf crew arrive early, load up the trucks after the catch has been sold and usually unload to around seven buyers each.
Nick watches the digital fish auction from his desk. Bidding opens at 6 AM and on average, 15 to 25 buyers bid for fish packages until it has all been sold. On the wall is a list of 25 day dragger's that unloaded to them in 2008, now its down to three or four regulars.
Two Wharf Employees weigh out a Red Fish catch package.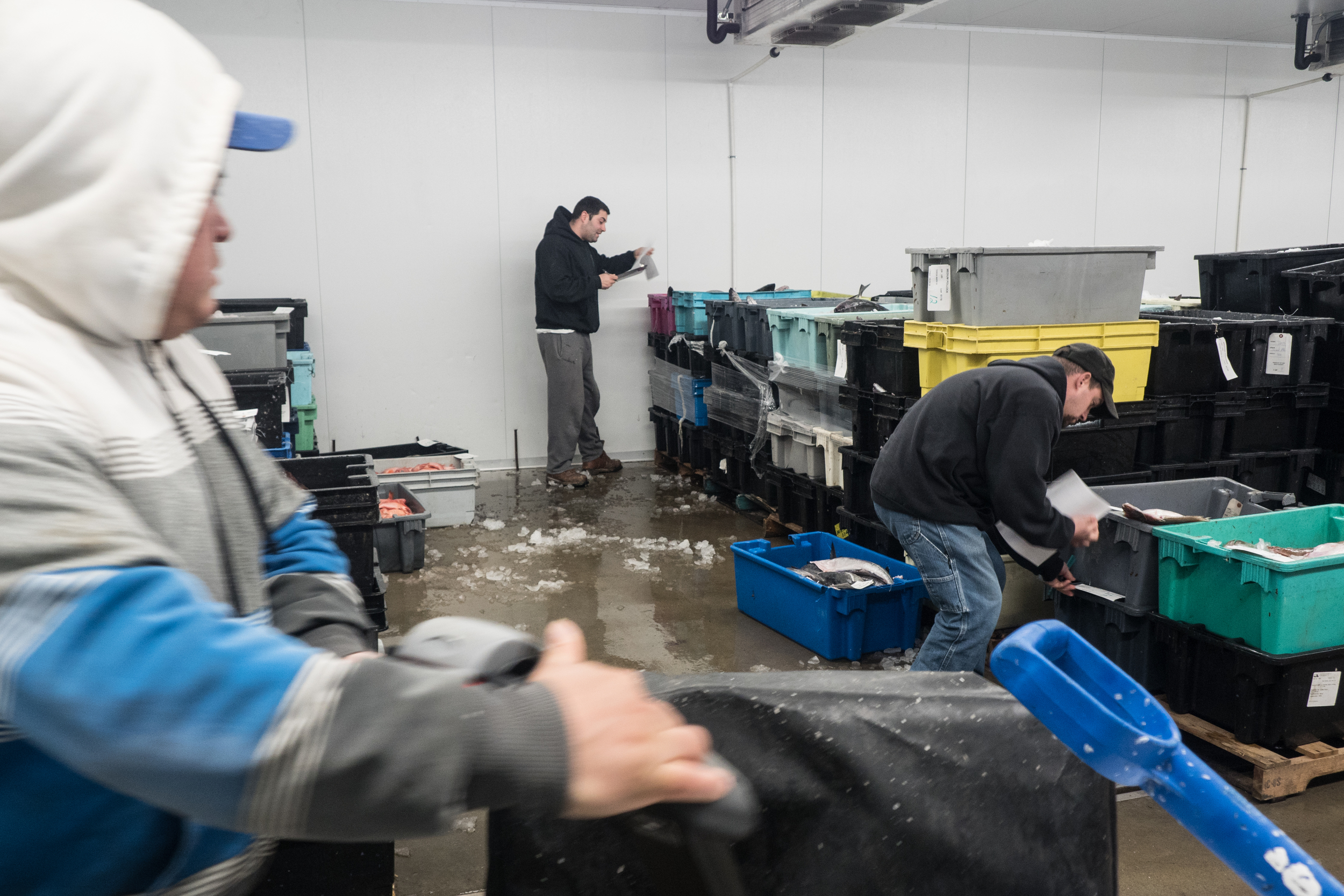 Nick, Shaun and Cezar record box numbers to make sure they go to the right customers.
Angel brings in a Red Fish tote from one of the large fishing vessels. Angel has been fishing for three years, often in a freelancer role, during the slow season months he also works part time on the wharf to compensate for lack of crew member positions.
Cezar wraps the fish containers before they are taken to the trucks. Nick says he's had to work with less employees since the Wharf was built eight years ago, often hiring on a freelance basis.
Lobster pots resting outside of the courthouse in Gloucester. During the off season months, lobster pots, equipment and memorabilia can be found on the docks, harbor walk or outside homes, for both aesthetic and storage purposes.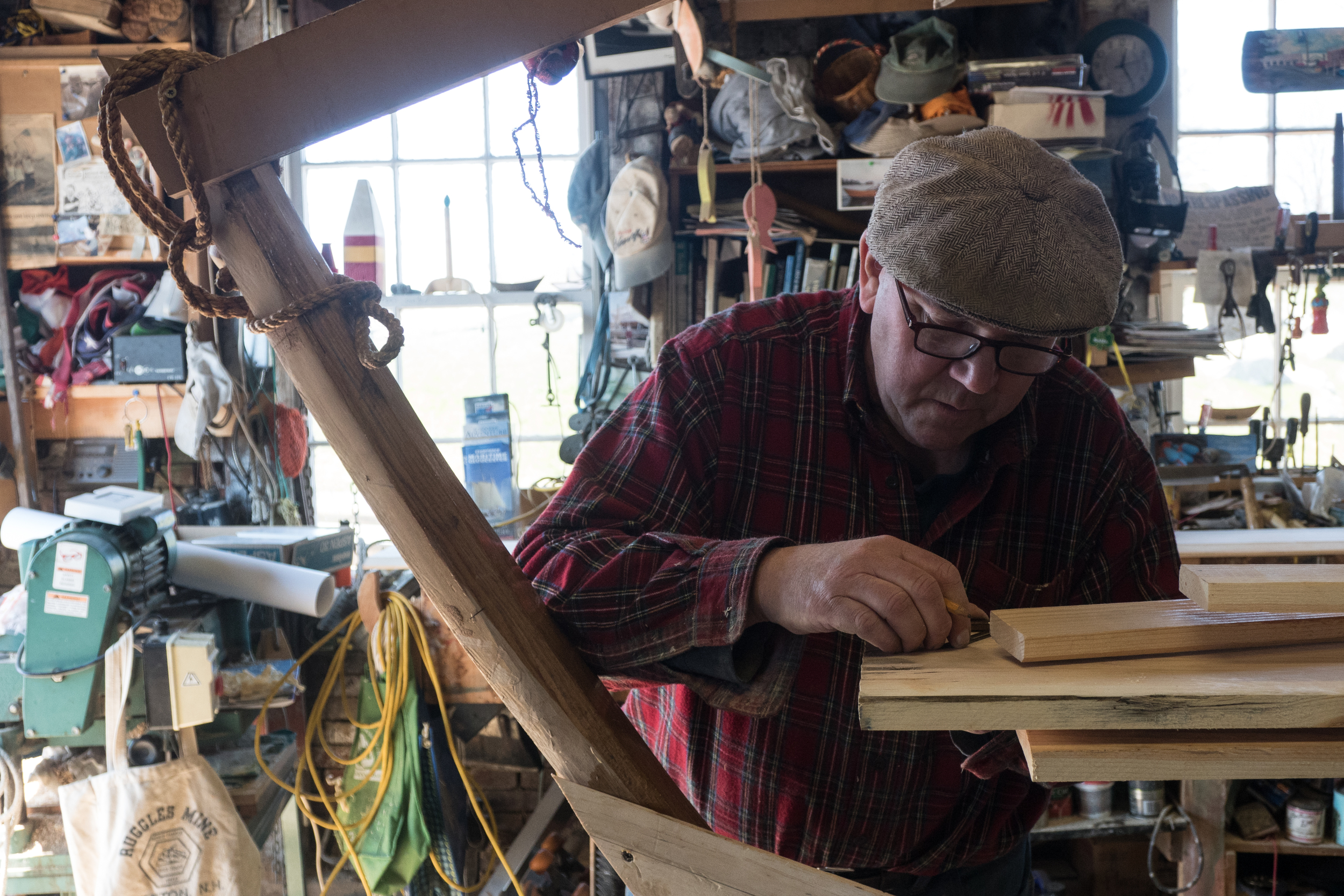 Geno measuring a side plank cut for a recreational dory in Gloucester. He mainly works alone during the academic year as the previous running after school program was discontinued due to a lack of interest.
Geno and his friends play folk and sea shanties for a weekly Saturday party in his dory shop. They share fishing stories while looking at old photos and discuss the origins of folk music.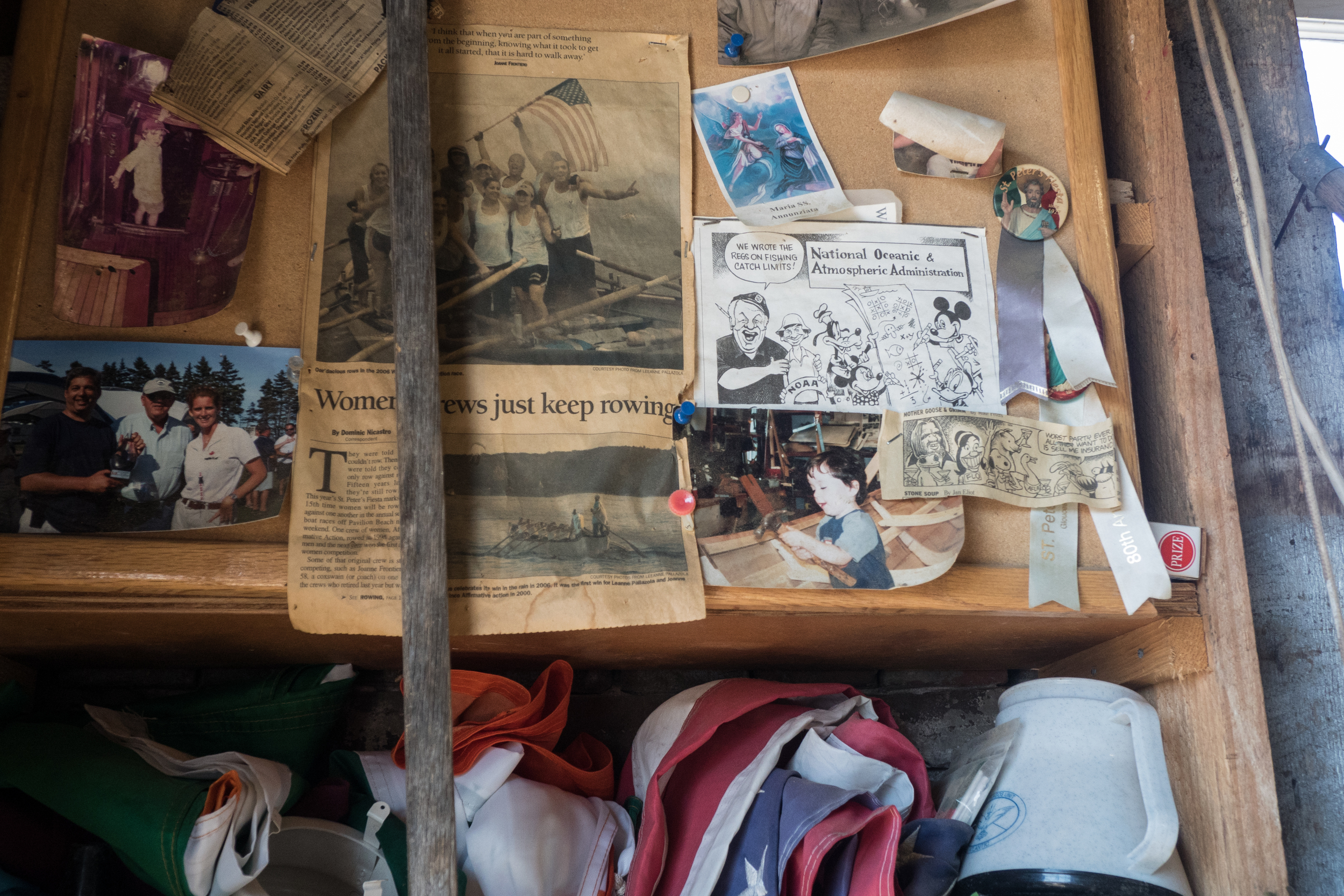 Among important keepsakes around the Dory Shop walls, A cartoon clipping mocks NOAA's ignorance in fish sampling practices. Geno laughs, "thats pretty close to it," most who have seen the practices first hand point to flawed regulation culture as a major reason for continued downfall.
Geno's friend jokes with him by explaining to the child the difference in the their age by using a measuring stick from 7 to 68.
Mark, long time volunteer and sailor giving a tour to two local high schoolers on the Adventure. Tourists and locals often come down to check on the progress and tell stories of the schooner's previous fishing life they remember from childhood.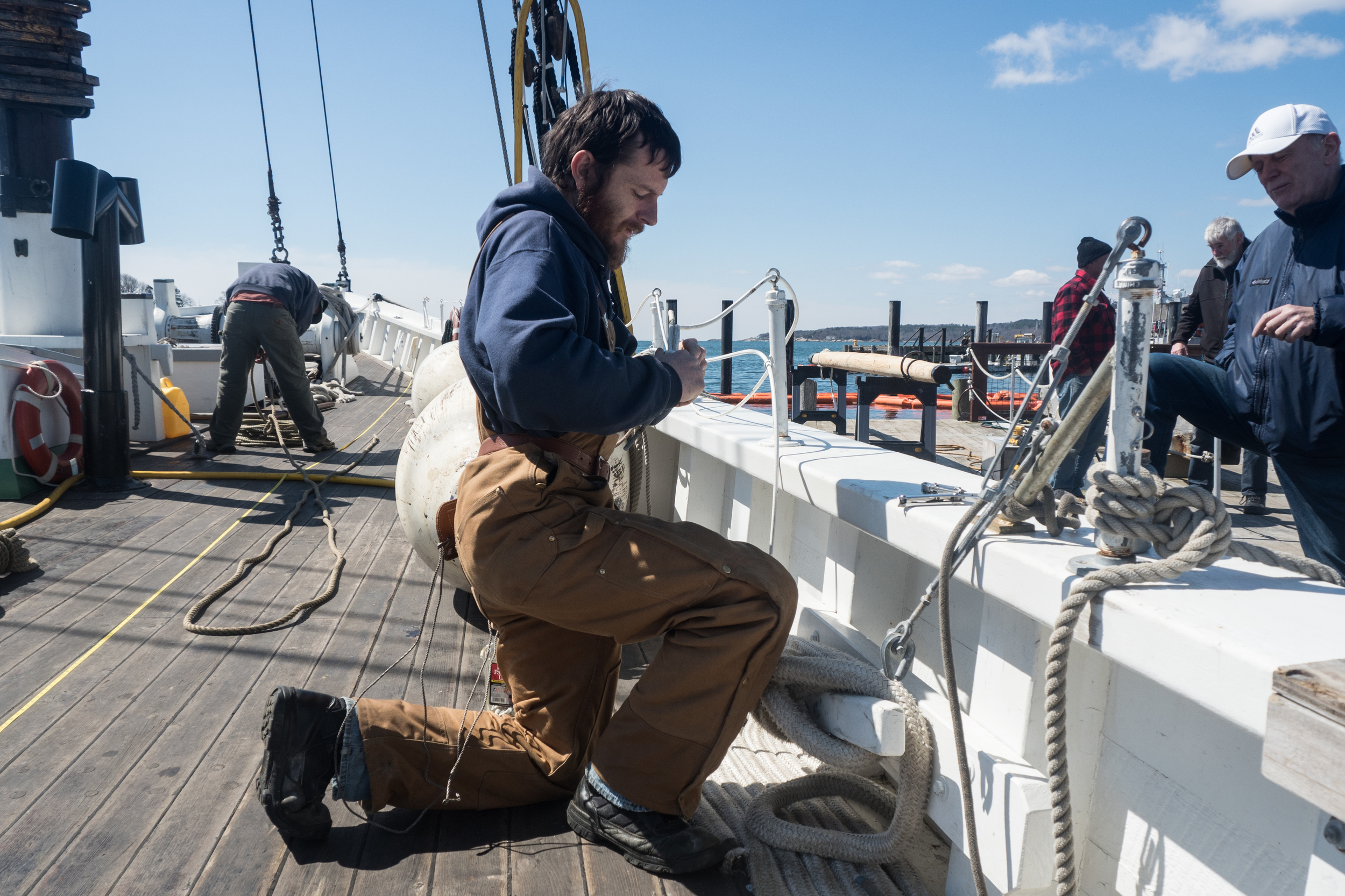 Mark uses recycled 12 volt wire to create railings on the Adventure. The original crew would not see these railing as a hindrance to work but coast guard regulation requires them for the Adventure's new purpose.
The kitchen interior down in the galley of the Adventure, black and white picture is from the 1950's. The Adventure crew is trying to restore not only how the schooner would sail but also how it would have looked, accurate down to the kitchen area, bunks and captain's space.
End of the Felicia Oil docks on Commercial street in Gloucester. In the mid to late 20th century, most city docks would have large boats stacked three or four across, now the fleet has been reduced significantly, similar grafetti can be found around the harbor.